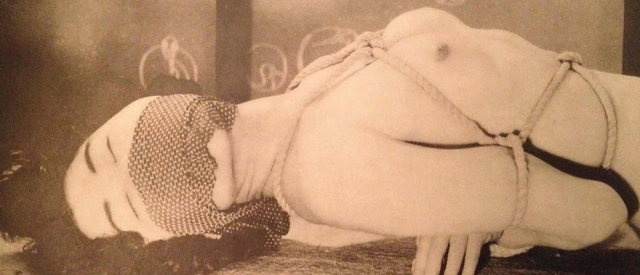 Bergborg, known to some of you from his blog KinbakuBooks, has for some time organized a series of historically oriented rope-evenings in Stockholm, called the "Kinbaku Salon". We are now bringing this format to Copenhagen. This will be an evening of reflection and learning, but also of pleasure. The whole presentation will be held in english.
Minomura Kou (1920–1992), also know under his artist name "Kita Reiko", was one of the pioneers of Kinbaku. He had a direct influence for example on Nureki and Yukimura, indirectly clearly also on Naka – and, it could be argued, perhaps on all of us. In the early 1950s, Minomura was instrumental in the turn towards SM of the magazine Kitan Club.

He was also the person behind both the tying and the texts in the first Kinbaku photo-book ever published. A key feature of his rope-scenes is an erotic dynamic involving contradictory feelings of embarrassment and enjoyment.

***

Bergborg is packing his bag with rare materials from the 1950s until today. There will be photos, artwork, translated texts, movies, and excerpts from original interviews not yet published. Bring an open mind, a pen and a notebook. And, of course, bring your ropes...