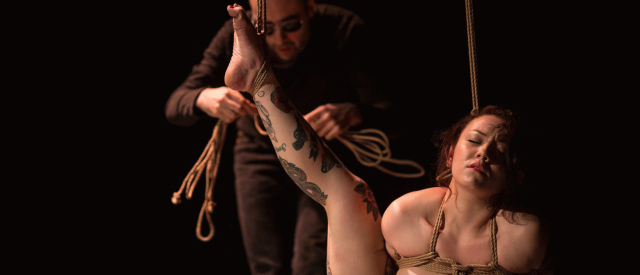 Pedro Cordas kommer til Kinbaku Lounge og præsenterer 3 endags-workshops 17, 18. og 19. november - 3 dage med 3 forskellige niveauer. De tre workshops kan naturligvis tages enkeltvist, to eller alle 3 efter evner og lyst. Pedro er en super dygtig og anerkendt underviser, sandsynligvis den Nawashi, der ved mest om det tekniske i shibari. Har var en af de første og få fra Vesten, der fik undervisning af den legendariske Akeshi Denki, og har siden studeret med mange af de bedste. Pedro kommer altid med spændende nye bindinger og god undervisning. Sophia Rose fra London er hans model alle 3 dage, samt lørdagens Intimate Kinbakshi Night. Mere om Sophia her: https://www.instagram.com/sophia.shibari/ Niveau for de 3 dage - Kontakt Scot, hvis I er i tvivl om hvor I passer ind: 17/11 kl. 15-22: INTERMEDIATE For jer der kan binde en solid gote, har styr på suspensionlines, sikkerhed, og kan lave en sikker suspension. Han kommer med gode bindinger, der kan udfordre både rigger og model. 18/11 kl. 10-17: INTERMEDIATE/ADVANCED En workshop for jer der har bundet et stykke tid, og gerne vil inspireres til nye ting. Pedro har altid nye og spændende twists på traditionelle japanske bindinger. I har lavet suspensions suspension i et stykke tid, og fortrolig med Gote og suspensionlines. 19/11 kl. 10-17: ADVANCED En spændende og udfordrende workshop for de mere erfarne riggere og modeller. Masser af transitions og spændende bindinger.
About Pedro: My decade-plus obsession with rope started in November 2003 in Tokyo. In 2004, a new journey began when I took classes with Nawashi Akechi Denki Sensei. After the Sensei's death (2005-07-17), I continued to study with Nawashi Kanna (formerly Akechi Kanna) - both of whom remain strong influences on my style today. I frequently travel to Japan to keep alive my passion for rope, studies and research. Since there are so many rope salons in Tokyo, with so many talented rope people, if one keeps one's heart and eyes open, one will definitely learn a lot about Japan and its rope culture. This amazing odyssey in kinbaku has allowed me to meet/see/learn from so many great people; such as Yukimura Haruki, Nureki Chimuo, Naka Akira, Randa Mai, Miura Takumi, Hajime Kinoko to name a few… Recently I started to look more closely at Naka Akira's style, especially after the workshop he presented at Berlin's "Schwelle 7" in January 2014. In addition, I have investigated a number of Hojojutsu patterns, as well as its history.

Over the years I have performed mainly in Portugal (residing in Lisbon), but also have made appearances across Europe (including the famed "London Festival of the Art of Japanese Bondage"), U.S. (including the famed "Bondage Expo Dallas") and Japan. I've been teaching for several years now in Portugal, Spain, France, Belgium, The Netherlands, Italy, Germany, Switzerland, Denmark, Czech Republic, U.K., U.S.A., Canada and Australia. The topics I teach are vast, I usually adjust my classes to the level of the participants – from beginner to experienced.