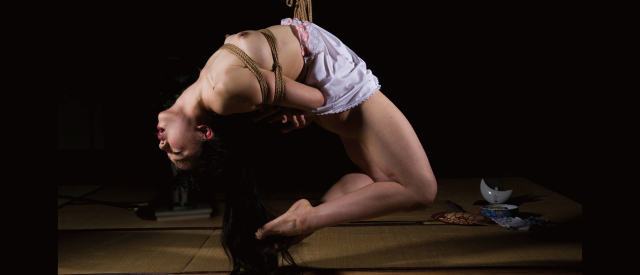 We are honoured and delighted to welcome Mr. Sugiura for his first workshop in Scandinavia, a 3-days exclusive workshop focusing on the photo-aesthetics in Kinbaku. During his workshop he will be assisted by Kasumi Hourai, his muse Miho, RIccardo and his lightning assistent Mr. Yasui. Please notice: The tickets is for one person. If you like to come with a partner, they must buy their own ticket.
Mr. Sugiura will share his knowledge and experience from working with kinbaku photoshoots during decades, with different kinbakushis.
Mr. Sugiura will do presentations and slideshows, explain the different nawastyles, talk about the differences between the film and digital eras, his perspective on ropes for performance vs. photography, how he likes to express himself through photography, and how to create the ideal masterpiece in photography. Finally he will also talk about model-posing, and talk about black hair fetish and the painter Seiu Itu.
Mr. Sugiura will present different kinbakusajikis (photo-shooting setups) - both exclusively for him and his assistants, and two kinbakusajikis specifically for the participants, where small groups of 5 participants will work together to create their own frames and photoshoots under supervision of Mr. Sugiura and his staff.
Mr. Sugiura will also give advises and technical instructions on lightning and camera techniques.
Furthermore Mr. Sugiura has asked Kasumi and Riccardo to talk about their experiences and perspectives on different topics of Kinbaku.

You will see:
Mr. Sugiura tie Miho, and teach about posing
Riccardo tie Kasumi - in a photoshoot directed by Mr. Sugiura
Kasumi tie Miho - in a photoshoot directed by Mr. Sugiura
2 sessions where the participant work together in small groups creating kinbaku photos - supervised by Mr. Sugiura and his team.

Maybe once in a lifetime offer to learn kinbaku photography from the source himself.
Saturday night there will be an opportunity to socialise with the other participants from all over Europe in Kinbaku Lounge.


Fee: DKK 4000.-/€ 538 per person.
Please contact us if you are interested in accommodation - We offer free accommodation in Wonderground/Kinbaku Lounge, and we can offer tips for nearby hotels and air bnb, if appreciated.
VENUE:
KINBAKU LOUNGE
* Individual tyingspots - each 5 squaremeters w/ own bamboo and suspensionpoint.
* Tea kitchen w/ microwave, fridge, waterboiler. Coffee/tea free.
Bathroom w/ 4 showers and toilets.
* Free accommodation for our workshops participants.