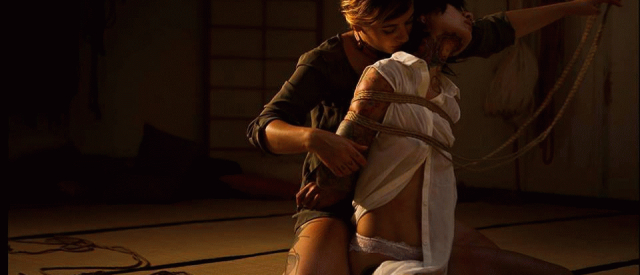 IMPORTANT NOTICE - READ ALL BEFORE YOU BUY YOUR TICKET! PLEASE NOTICE: (English read below) OM BILLETTER TIL GORGONES WORKSHOPS VIGTIG INFO - LÆS HELE TEKSTEN FØR I (EVT.) KØBER BILLET! VIGTIGT - HUSK FØR DU TÆNKER AY DELTAGE: * Ingen af disse workhshops er begynderworkshops, men er rettet mod de som har gennemført KINBAKU 303 eller tilsvarende og opefter. * Både Rigger og Bunnie/Model skal have en del erfaring med suspensions. * At deltagelse på hendes workshops forudsætter at man er startet med DAY 1&2 inkl. Bottoming Skills for Ropes, og har gennemført den forrige af den man ønsker at deltage på, samt tager dem i kronologisk rækkefølge: 1. OPUS / DAY 1&2 incl. Bottoming Skills for Ropes 2. OPUS / DAY 3&4 3. OPUS / DAY 5+6 * At alle dage er obligatoriske for begge ender af rebet - også fredagens Bottoming Skills for Ropes. ***** IMPORTANT NOTICE - READ ALL BEFORE YOU BUY YOUR TICKET! PLEASE NOTICE: * None of these workshops are for Beginners. * Both Rigger and Model must be confident and experienced with suspensions. * Before attending OPUS / DAY 3&4 you must have been through OPUS / DAY 1&2 + Bottoming Skills for Ropes, and before attending OPUS / DAY 5&6, you must have taken OPUS / DAY 3&4.
FUNDAMENTALS OF BODY AND ROPE MECHANICS
Programme:
Friday 6-10pm: BOTTOMING SKILLS FOR ROPES
A night focused in the Model - a very instructive evening for all, regardless of end of the rope. This evening provides a lot of information and explanation to both model and rigger. The evening is open to others, but is an integral and mandatory part of the workshop.
Saturday/Sunday 10am-5pm: OPUS / DAY 1&2
This Night the focus will be on the ropemodels - but the riggers too, gains a lot of worthy and valuable knowledge from participating.
It is open for all, but is mandatory for ropecouples attending the weekendworkshop.
Gorgone will teach her basic patterns and techniques, with her own TK and hipharness, and how to make a transition sequence the best use of them.
For advanced students to really go back to the basics and REALLY reinforce them and go in depth with the understanding of them by deconstructing them and then using all the different basic logics and technics, and analyse their pros and cons and specificities
Fee: DKK 2400,-/€ 323 per couple (Friday-Sunday)
Venue: Kinbaku Lounge/Wonderground
Level: Intermediate/advanced.
The participants are expected a certain amount of tying-experience and flow in the ropes, and being familiar with making suspensions, at least the Yoku-zuri/sideway-suspension.
Through this workshop both the Rigger ande the Model will be guided through pretty advanced suspensions and transitions.
The tuition will be held in English.
VENUE:
KINBAKU LOUNGE
* Individual tyingspots - each 5 squaremeters w/ own bamboo and suspensionpoint.
* Tea kitchen w/ microwave, fridge, waterboiler. Coffee/tea free.
Bathroom w/ 4 showers and toilets.
* Free accommodation for our workshops participants.