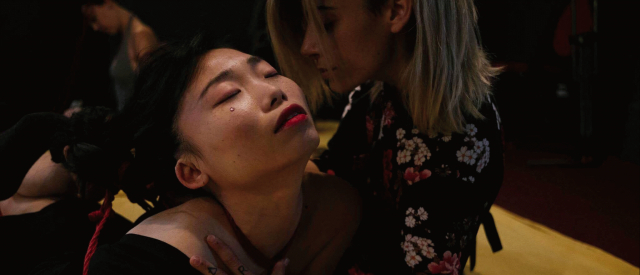 PLEASE READ THE TEXT THROUGH BEFORE BUYING YOUR TICKET ♥
IMPORTANT NOTICE - READ ALL BEFORE YOU BUY YOUR TICKET!
PLEASE NOTICE:
* None of these workshops are for Beginners.
* Both Rigger and Model must be confident and experienced with suspensions.
* Before attending OPUS / DAY 3&4 you must have been through OPUS / DAY 1&2 + Bottoming Skills for Ropes, and before attending OPUS / DAY 5&6, you must have taken OPUS / DAY 3&4.
Level:
Intermediate to advanced - expected for both for Riggers and Models. Participating on OPUS 5&6 requires earlier participation on OPUS 3&4.
TIME
Both days 10:00-17:00

PROGRAMME
DAY 5
- Gorgone's TK 3rd Rope (front pattern)
- Agura / Ebi
(floor, suspension, transitions)
- Gorgone's Diamond Hojo
- 'Kata Ashi' suspension sequence
DAY 6
- Misungui Harness
- Gorgone's Strappado (+ "Tengu" variation)
- 'Hog Tie' w/ Strappado or Tengu
(floor, suspension, transitions)
- Creative transition sequence
(Running-man / Gyaku Ebi / Scorpion /
Inverted Buddha /Sakaza tsuri / Yoko tsuri)
-------------------------------------------
Gorgones method and approach to ropes is deeply influenced by her practice of yoga and other bodyworks together with many years of professional experience on both sides of the rope. Her teaching is directed to both riggers and models, guiding them into developing active, conscious and efficient partnership in order to create succesful rope experiences. She takes time with her students to study and deconstruct the basics to help reinforce every party's understanding of the rope's and body's mechanics before going on to more complex structures and sequences. Her pedagogy focuses on encouraging and developing independency, freedom and creativity in the student's practice while maintaining a fundamental background of safety, knowledge and awareness.
VENUE:
WONDERGROUND / KINBAKU LOUNGE

* Individual tyingspots - each 5 squaremeters w/ own bamboo and suspensionpoint.
* Tea kitchen w/ microwave, fridge, waterboiler. Coffee/tea free.
Bathroom w/ 4 showers and toilets.
* Free accommodation for our workshops participants.