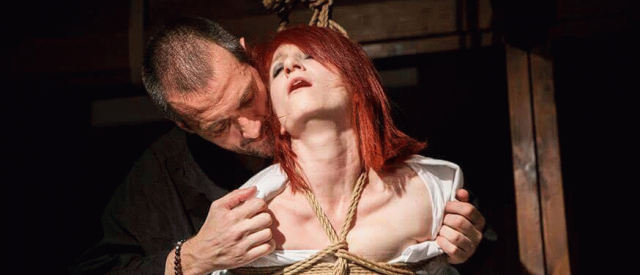 This 3 day workshop that will bring us into the core of Naka Ryu as interpreted by Naka Sensei's Deshi, Riccardo Wildties.
RICCARDO: NAKA RYU I - 3 days Intensive Workshop

From the basic ties to the most tortuous suspensions we will discover the beauty of this style, analyzing the aesthetical as well as the phylosophical aspects of Naka Ryu.
The workshop will cover:
TK (2-3-4-etc) as adapted by Wildties to improve safety.
Basic semenawa floor ties
Basic Suspensions of the style
Wildties personal variations and transitions
Freestyle
LEVEL:
ADVANCED -

Rigger must be able to make a stabile TK

And able to attach and lock suspensionlines efficiently.


Both Rigger and Model

should be familiar with basic suspensions.

Bunnies should be comfortable in a Gote, and familiar with the differences between nerve and circulation impingement.
A set of at least 12 ropes will be needed (5-6 mm, 7-7,50 mt)

DATE/TIME:
Jan 26: 15:00-22:00
Jan 27+28: 10:00-17:00
FEE:
DKK 2700,-/€ 365 per couple.
VENUE:
KINBAKU LOUNGE




* Individual tyingspots - each 5 squaremeters w/ own bamboo and suspensionpoint.




* Tea kitchen w/ microwave, fridge, waterboiler. Coffee/tea free.




Bathroom w/ 4 showers and toilets.




* Free accommodation for our workshops participants.