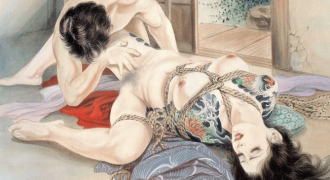 Our monthly Kinbaku-event with ropes for Play, Pain & Pleasure. Attendees from abroad, please contact Namárië or mail to info@kinbakulounge.dk for pre-released ticket(s).
Welcome to Kinbaku Lounge at our venue in Valby, Copenhagen.

Kinbaku Lounge welcomes everybody, whether you want to tie, play, socialize or just have a cozy evening - depending on your desires and mood. There will be tied at all levels from beginners to highly advanced, in a wide range of styles and variations.

At Kinbaku Lounge you may tie:
* Erotic, sensual and sensational
* Soft and/or Dominant - and everything inbetween.
* Exclusively with your own partner or other/several partner(s)

Other elements like candles, floggers, pins etc. is also welcomed in your play.

Everybody is welcome - couples as singles, with or without (Rope)partner(s). You kan tie, play or just enjoy the view and sense what kinbaku is all about. Silent music, muted light and a lounge-area where you can talk with likeminded people and watch others tying and playing.
We encourage singles who wish to be tied or tie, to say it out loud or use our purple wristband, as it gives the opportunity to match up and eventually tie together.

There will be a limited amount of tickets for this arrangement.
Fee: DKK 150.- (€ 20) per person. Free coffee/tea.
No tickets in the door.
Supportive-members free.


Tickets are released just after the previous lounge, but if you come from abroad, please contact us and you can get tickets pre-released.

The doors will be open from 20:00 and closed at 21:00.
A short welcome will take place at 20:10.

More info at kinbakulounge.dk (english version)

We look forward to see you!