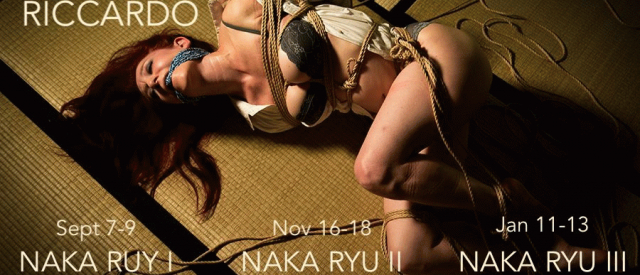 This 3 day workshop that will bring us into the core of Naka Ryu as interpreted by Naka Sensei's Deshi, Riccardo Wildties.
RICCARDO: NAKA RYU I - 3 days Intensive Workshop

From the basic ties to the most tortuous suspensions we will discover the beauty of this style, analyzing the asthaetical as well as the philosophical aspects of Naka Ryu.

The workshop will cover:

TK (2-3-4-etc) as adapted by Wildties to improve safety.
Basic semenawa floor ties
Basic Suspensions of the style
Wildties personal variations and transitions
Freestyle

LEVEL:
ADVANCED
Max. 12 couples

Rigger must be able to make a stabile TK
and able to attach and lock suspensionlines efficiently.
Both Rigger and Model should be familiar with basic suspensions.
Bunnies should be comfortable in a Gote, and familar with the differences between nerve and circulation impingement.
A set of at least 12 ropes will be needed (5-6 mm, 7-7,50 mt)

DATE/TIME:
Friday: 15:00-22:00
Saturday + Sunday: 10:00-17:00

FEE:
DKK: DKK 3000.- / € 403 per couple

****************************

****************************

ABOUT KINBAKU LOUNGE

For this workshop the workshop space (Room I) provides:
Full individual suspensionpoint for each couple participating - each with:
- Full size bamboo
- Hardpoint
- 4 sqm high quality rubbermats

2 separate kitchens
4 showers
3+1 toilet

ACCOMMODATION
Sleeping in the studio: €30 per person per weekend. Paid in cash (€ or DKK) by arrival.If arriving on Thursday: Doors are open after classes, between 22:00 and 22:30.
* Matresses/Futons/Tatamis
* Blankets
* Sheets
* Towel

is available on request.

Please write us a mail after your registration, if you wish accommodation on: accommodation@kinbakulounge.dk.