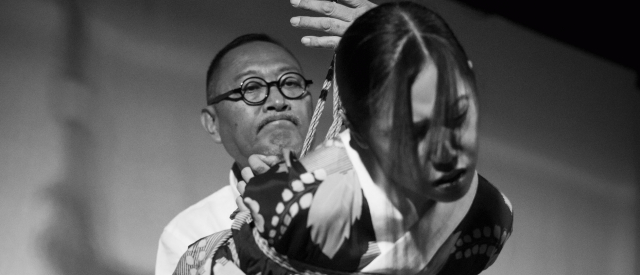 We are very excited and proud to welcome Akira Naka with Iroha, for their 2nd visit in Kinbaku Lounge.
*PLEASE READ THIS ANNOUNCEMENT THROUGHLY BEFORE YOU APPLY FOR/BUY YOUR TICKET*
We are extremely proud and happy to welcome Akira Naka & Iroha back to Kinbaku Lounge for their second visit, presenting a 3-days workshop + performance on Saturday night.

*LEVEL AND PRE REQUISITIONS *
LEVEL: VERY ADVANCED
Akira Naka has his own style of Kinbaku, Naka Ryu, based on aesthetics and semenawa. This workshop includes a lot of advanced suspensions, and therefore all basics as TKs, suspensionlines, linemanagement, position handling, nerve knowledge/management, is highly expected to be grounded, for both rigger and model attending.
* TICKET POLICY *
1 ticket covers 1 couple.
To buy a ticket both rigger and model, must meet the pre requesitions when you buy/apply for your ticket.
If you are in doubt of your level, please write us before April 28, and we can discuss it. Alternatively you can send us pictures/videos of your work and your curriculum.
Akira Nakas workshop is not for Beginners and must not be your first workshop to attend, as a lot of rope skills and -management is expected, both for Riggers and Models.
* TICKETS WILL BE RELEASED BY THE FOLLOWING PROCEDURE *
PRE-RELEASE: APRIL 28 at 12:00:
- 2/3 of all tickets for all supportive members
- 1/3 of all tickets for international participants.
All tickets must be applied for via mail by this specific procedure:
1) Write a mail to naka@kinbakulounge.dk (from 12:00 (noon) on April 28)
2) If you are among the ones who get access to a ticket, you will receive link + a code to buy your ticket.
Please notice: Participants who has not taken his workshop before, will be prioritised.
OFFICIAL RELEASE: APRIL 29 at 12:00:
All remaining tickets will be released for all, regardless of residence.
All tickets must be applied for via mail by this specific procedure:
1) Write a mail to naka@kinbakulounge.dk (from 12:00 (pm) on April 29)
2) If you meet the pre requesitions, you will a code to buy your ticket from 12:00 if there are any left on safeticket, by first bought first served principle.
* TICKET FEE *
DKK 4800.- / € 645.-
Please notice: Tickets for Show- and Playnight (Sept 22) will be sold separately. Workshop participants will get a code for discount on the entry ticket, on own request.
****************************
*ABOUT KINBAKU LOUNGE*
For this workshop the workshop space (Room I) provides:
15+1 individual suspensionpoint - each with:
- Full size bamboo
- Hardpoint
- 4 sqm high quality rubbermats
2 separate kitchenettes
4 showers
3+1 toilet
You can take a virtual tour through Kinbaku Lounge here:
http://kinbakulounge.dk/vr/tour.html
It will be possible to sleep in Room II during the weekend, but please notice that there will be a Show- & Playnight Saturday night, where all your stuff must be put aside.
**ACCOMODATION**
Sleeping in the studio: €30 per person per weekend.
Show- & Playnight is not included in this price. If you sleep in the venue and don´t want to join Saturday night, you must leave the venue between 20:00-24:00.
If arriving on Thursday: Doors are open after classes, between 22:00 and 22:30
Paid in cash (€ or DKK) by arrival.
* Matresses/Futons/Tatamis
* Blankets
* Sheets
* Towels
are available.
Please write us a mail after your registration, if you wish accommodation on: accommodation@kinbakulounge.dk.