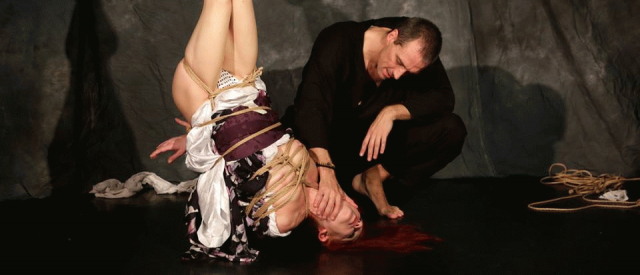 We are very happy to announce, that Riccardo will expand his range of workshops in Kinbaku Lounge with a #3.
Tickets for supportive members + 4 international tickets for international participants in pre-sale Oct 1 at 16:00. Link for pre-sale international tickets: https://kinbakulounge.safeticket.dk/nakaryujan19int
Code is: kinbaku.
Any remaining tickets released Oct 2 at 16:00 for all participants, regardless of residence.
Please read the text throughly before buying your ticket, and make sure, that both rigger and model meets the pre requesitions, and contact us if you are in doubt or have any questions*
We will enrich our knowledge of the basic techniques and suspensions of this style focusing on the concepts behind the patterns. We will also start mixing up these techniques to create new personalized patterns that will have the look and aesthetics of the style but will be completely new and individual.
Basic and advanced transitions will be covered in detail. We will introduce elements of advanced communication through rope and will go deeper into the spirit of japanese erotic semenawa bondage.
Max. 12 couples
*PRE REQUESITIONS*
Rigger and Model must be confident with Naka Akira's tk (as tied by Riccardo), as with suspensions, body/nerve -awareness and -handling.
Bring at least 12 ropes (lenght 7 to 8 mt).
DATE/TIME
Friday: 15:00-22:00
Saturday + Sunday: 10:00-17:00
*ABOUT KINBAKU LOUNGE*
Individual fully equipped suspensionpoint for each couple - each with:
- Full size bamboo
- Hardpoint
- 4 sqm high quality rubbermats
2 separate kitchenettes
4 showers
3+1 toilet
You can take a virtual tour through Kinbaku Lounge via:
http://kinbakulounge.dk/vr/tour.html
*ACCOMODATION*
Sleeping in the studio: €30 per person per weekend. Paid in cash upon arrival.
If arriving on Thursday: Doors are open after classes, between 22:00 and 22:30. Entrance before is not possible before due to the classes.
On request we can offer: (no extra fee)
- Matres/futon/tatami for sleeping
- Duvet/Sheet
- Towel
Please contact us for further confirmation: accommodation@kinbakulounge.dk
*TICKETS WILL BE RELEASED BY THE FOLLOWING PROCEDURE*
PRE-RELEASE: Oct 1 at 16:00:
- 2/3 of all tickets for all supportive members
- 1/3 of all tickets for international participants.
SUPPORTIVE MEMBERS
Supportive members ticket is sold with usual code.
OFFICIAL RELEASE: Oct 2 at 16:00:
All remaining tickets will be released for all, regardless of residence.
Buy your ticket here:
https://kinbakulounge.safeticket.dk/nakaryujan19