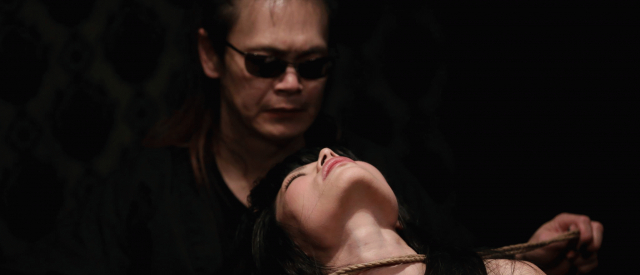 On the occasion of Nawashi Kanna and Kaguras visit to Copenhagen, we proposed them to do a hardcore intimate session in our space. They kindly accepted and agreed to present a wide presentation in a BDSM/Kink/Kinbaku-session. This will be a rare opportunity to see them explore together some of the things they like the most in Kinbaku and BDSM. Their session will take 2+ hours. Please notice: For this event, there will be a very limited amount of tickets.
FROM KANNA & KAGURA:
This show is the show that the whole SM play becomes the main thing, not a show only for Kinbaku.
The old Japanese SM show showed a show with various tools, including a whip and a candle and a needle and an enema, as well as Kinbaku.

We just revived the Phantom Show that Akechi Denki sensei made up in old days in Japan from last year at the present!
We perform the show of similar contents this time in Kinbaku Lounge in Copenhagen.
Please enjoy Eros in Kinbaku and Eros of a woman disciplined by SM to your heart's content!

PROGRAMME: 20:00 DOOR OPENS 20:30 KANNA & KAGURA STARTS THEIR INTIMATE SESSION (between 2 and 3 hours)