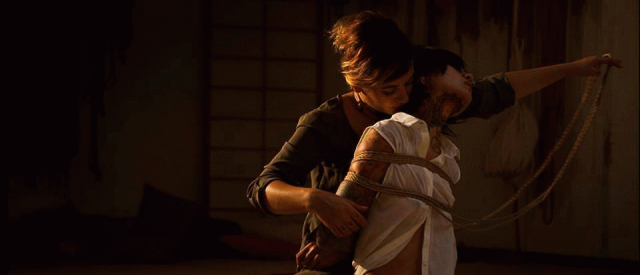 Gorgone has changed her 3x2 days workshop OPUS-serie, into a more theme based serie: Weekend 1: BETTER BOTTOMING FLY STRONG Understanding the body so you can stay with in the body limits, in a reassuring way. Weekend 2: DYNAMIC BODIES Moving the body around in a dynamic way. Weekend 3: CHAOTIC BODIES Understanding the body so you can destroy it. The weekends can be taken individually, depending on you and your ropepartners skills and levels. ​
CHAOTIC BODIES
DAY 1

- Gorgone's TK - 3rd Rope (front pattern)
- 'Hog Tie' : Floor, suspension, transitions
- Variations on the «Crab Tie»
- Gorgone's Diamond «Hojo» TK

DAY 2

- 'Kata Ashi' suspension sequence
with Diamond «Hojo» TK
- Agura / Ebi : Floor, suspension, transitions
- Variations on «Daruma»
​

«Dystopian Bodies» is a two days advanced workshop focusing on exploring a more extreme and tortuous approach to rope suspensions and transitions. The modules of this class are less generic and demand from both part a stronger sense of adaptation to less predictable structures. This workshop is more challenging for the body/mind, playing and experimenting with more painful and chaotic structures and processes.
While «Utopian Bodies» focuses on understanding the body in order to navigate within its limits, the goal here is to 'negotiate with the body' in order to push the envelop.
(NOTE: Advanced level - Riggers should master suspension line management and both riggers/models should have achieved successfully a few transitions sequences.)
​
PLEASE NOTE :
THIS IS NOT A BEGINNERS WORKSHOP - Riggers should already know and master basic suspension line technics and have achieved at least a few successful static suspensions.

ABOUT GORGONE
My method and approach to ropes is heavily influenced by my practice of yoga and bodywork, together with many years of professional experience on both sides of the ropes.
My teaching is directed to both riggers and models, guiding them to develop active, conscious and efficient partnerships in order to create successful rope experiences.
The method is built on the study and deconstruction of both rope's and body's mechanics and


my pedagogy encourages independency, freedom and creativity while maintaining a fundamental background of safety, knowledge and awareness.
SCHEDULE
Saturday/Sunday: 10:00-17:00
TICKET POLICY
1 ticket = 1 couple.

To buy a ticket both rigger and model, must meet the
pre-requisitions when you buy/apply for your ticket.


TICKETS WILL BE RELEASED BY THE FOLLOWING PROCEDURE


PRE-RELEASE June 30 at 12:00 noon:
- 2/3 of all tickets for all supportive members
- 1/3 of all tickets for international participants.
Pre-released international tickets must be applied for via mail by this specific procedure:
1) Write a mail to info@kinbakulounge.dk (from 12:00 (pm) on May 19
2) If you are among the ones who get access to a ticket, you will receive link + a code to buy your ticket.
OFFICIAL RELEASE July 1 at 12:00 noon:
All remaining tickets will be released for all, regardless of residence. No code needed for any of these tickets.
FEE
DKK 2000.- / € 269.- per couple


****************************

ABOUT KINBAKU LOUNGE

For this workshop the workshop space (Room I) provides:
Full individual suspensionpoint for each couple participating - each with:
- Full size bamboo
- Hardpoint
- 4 sqm high quality rubbermats

2 separate kitchens
4 showers
3+1 toilet

ACCOMMODATION
Sleeping in the studio: €30 per person per weekend.
If arriving on Thursday: Doors are open after classes, between 22:00 and 22:30
Paid in cash (€ or DKK) upon arrival.

* Matresses/Futons/Tatamis
* Blankets
* Sheets
* Towel

is available on request.

Please write us a mail after your registration, if you wish accommodation on: accommodation@kinbakulounge.dk.