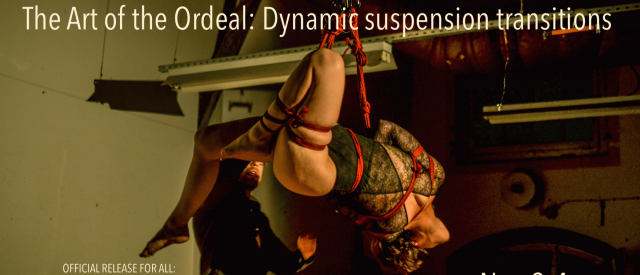 Det er med største fornøjelse, at vi byder velkommen til FredHatt & Anna Bones til deres første workshop i Kinbaku Lounge. Vi har haft fornøjelsen af at møde og opleve dem rundt omkring i Europa og i Loungen til workshops og andre begivenheder, som de enten selv har deltaget på eller undervist ved. De er dygtige og erfarne undervisere og performere, og driver Anatomie Studio i London.
*Please read the text througly before buying your ticket*
The Art of the Ordeal : Dynamic suspension transitions with FredHatt & Anna Bones


Dynamic suspension transitions are one of Fred and Anna's favourite kinds of rope because when well executed this means more airtime and many possibilities for play. When doing dynamic suspensions, Fred and Anna like to feed off each other's impulses: Fred's sadistic mind compliments Anna's natural inclination for active bottoming and movement. This presents Fred with choices to provide relief (or 'pit stops') for Anna, or block movement to cause stress. Anna enjoys to explore movement within her restriction and enjoys the rush that the contrasts between impossible positions and resting places gives her. This allows them to play with both endorphin highs and adrenaline rushes, for a real rollercoaster-like rope experience.
In this class we will present clear and structured concepts for participants to explore this kind of rope, including:
- How to read the model/bottom's body and make decisions accordingly, the differences between what we call 'micro' and 'macro' transitions
- Playing with levels (distance from the floor)
- Blocking movement versus giving room
- Building in what we call 'pit stops'
- Playing with endorphins and adrenaline
- How to build in your 'escape plan' during transitions (i.e. having a plan B in case things go wrong).
Advice about line management and how to work with your partner(s) will be given throughout. The class will be geared toward rigging and bottoming with exercises geared towards developing both sets of skills. 

This style of dynamic transitions is challenging both for the rigger and the bottom, please tie within your own risk profile and limits.
***************************************
SCHEDULE
Saturday/Sunday: 10:00-17:00
TICKET POLICY
1 ticket = 1 couple.
To buy a ticket both rigger and model, must meet the
pre-requisitions when you buy/apply for your ticket.
TICKETS WILL BE RELEASED BY THE FOLLOWING PROCEDURE
OFFICIAL RELEASE: JULY 1 at 12:00 noon:
All remaining tickets will be released for all, regardless of residence. No code needed for any of these tickets.
PRE-RELEASE: JUNE 30 at 12:00:
- 2/3 of all tickets for all supportive members
- 1/3 of all tickets for international participants.
Pre-released international tickets must be applied for via mail by this specific procedure:
1) Write a mail to info@kinbakulounge.dk (from 12:00 (pm) on June 30.
2) If you are among the ones who get access to a ticket, you will receive link + a code to buy your ticket.
WORKSHOP FEE
DKK 2000.- / € 269.- per couple
****************************
ABOUT KINBAKU LOUNGE
For this workshop the workshop space (Room I) provides:
Full individual suspensionpoint for each couple participating - each with:
- Full size bamboo
- Hardpoint
- 4 sqm high quality rubbermats
2 separate kitchens
4 showers
3+1 toilet
ACCOMMODATION
Sleeping in the studio: €30 per person per weekend.
If arriving on Thursday: Doors are open after classes, between 22:00 and 22:30
Paid in cash (€ or DKK) by arrival.
* Matresses/Futons/Tatamis
* Blankets
* Sheets
* Towel
is available on request.
Please write us a mail after your registration, if you wish accommodation on: accommodation@kinbakulounge.dk.