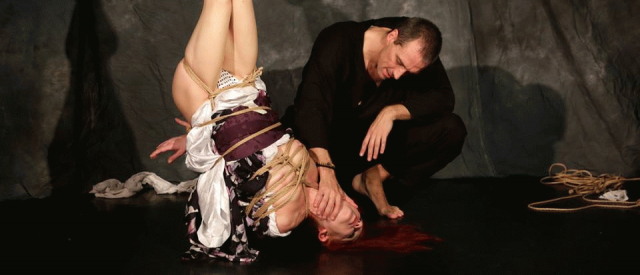 We are very happy to announce, that Riccardo will expand his range of workshops in Kinbaku Lounge with a #3.
We will enrich our knowledge of the basic techniques and suspensions of this style focusing on the concepts behind the patterns. We will also start mixing up these techniques to create new personalized patterns that will have the look and aesthetics of the style but will be completely new and individual.
Basic and advanced transitions will be covered in detail. We will introduce elements of advanced communication through rope and will go deeper into the spirit of japanese erotic semenawa bondage.
Max. 12 couples
*PRE REQUESITIONS*
Rigger and Model must be confident with Naka Akira's tk (as tied by Riccardo), as with suspensions, body/nerve -awareness and -handling.
Bring at least 12 ropes (lenght 7 to 8 mt).
DATE/TIME
Friday: 15:00-22:00
Saturday + Sunday: 10:00-17:00
*ABOUT KINBAKU LOUNGE*
For this workshop the workshop space (Room I) provides:
Individual suspensionpoint - each with:
- Full size bamboo
- Hardpoint
- 4 sqm high quality rubbermats
2 separate kitchenettes
4 showers
1+3 toilet
You can take a virtual tour through Kinbaku Lounge here:
VIRTUAL TOUR THROUGH KINBAKU LOUNGEl
*ACCOMMODATION*
Sleeping in the studio: €30 per person per weekend. Paid in cash upon arrival.
If arriving on Thursday: Doors are open after classes, between 22:00 and 22:30


On request we can offer: (no extra fee)
- Matres/futon/tatami for sleeping
- Duvet/Sheet
- Towel


Please contact us for further confirmation: accommodation@kinbakulounge.dk