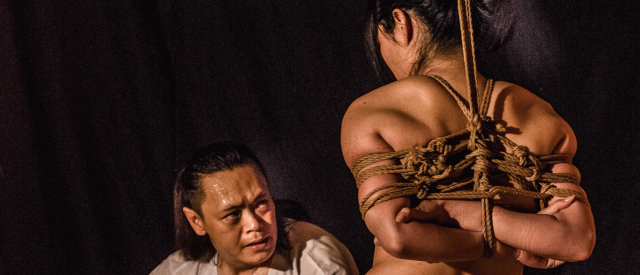 Level: ADVANCED The class is only for people who have already been learning the basics of Kanna ryu, to whom Kanna sensei can teach the next stage.
*PLEASE READ THIS ANNOUNCEMENT THROUGHLY BEFORE YOU APPLY FOR/BUY YOUR TICKET*
NAWASHI KANNA: BAMBOO & IMPACT PLAY
We are extremely proud and excited to welcome Kanna & Kagura back again in Kinbaku Lounge, presenting another 3-days workshop, this time for advanced level only.
Nawashi Kanna, who was the deshi of Akechi Denki, has his own style of Kinbaku, Kanna Ryu, based on technique and semenawa.
*** CONTENT ***
This weekend Kanna will teach how to tie and play with Bamboo including Take dzuri (Bamboo suspension), Impact play and more complicated and restricted shibari, such as Teppo shibari and Yubikake shibari (finger tying).
*** LEVEL / PRE REQUISITIONS ***
Level: ADVANCED
The workshop is for Riggers who have already participated in Kanna introduction workshop, or received tuition from Kanna san.
Both Rigger and Model should be familiar with basic suspensions.
Models should be comfortable in a Gote, and familar with the differences between nerve and circulation impingement.
*** TICKET POLICY ***
1 ticket = 1 couple.
To buy a ticket both rigger and model, must meet the
pre-requisitions when you buy/apply for your ticket.
*** WORKSHOP FEE ***
DKK 3800.- / € 511.- per couple
*** TICKETS WILL BE RELEASED BY THE FOLLOWING PROCEDURE ***
PRE-RELEASE: Oct 1 at 16:00:
- 2/3 of all tickets for all supportive members
- 1/3 of all tickets for international participants.
OFFICIAL RELEASE: October 2 at 16:00:
All remaining tickets will be released for all, regardless of residence. No code needed for any of these tickets.
Link for tickets - Pre-released international tickets is sold by individual link. code: kinbaku:
https://kinbakulounge.safeticket.dk/en#search=nawashi%20kanna
****************************
*** ABOUT KINBAKU LOUNGE ***
For this workshop the workshop space (Room I) provides full individual suspensionpoint for each couple participating - each with:
- Full size bamboo
- Hardpoint
- 4 sqm high quality rubbermats
2 separate kitchens
4 showers
3 toilet
It will be possible to sleep in Room II during the weekend, but please notice that there will be a Intimate Kinbakushi Night Saturday night, where all your stuff must be put aside. Tickets will be sold separately, and if you are not attending the IKN, be aware, that you cannot stay in the venue while the event is happening.
*** ACCOMMODATION ***
Please write us for more info, if you consider accommodation on: accommodation@kinbakulounge.dk