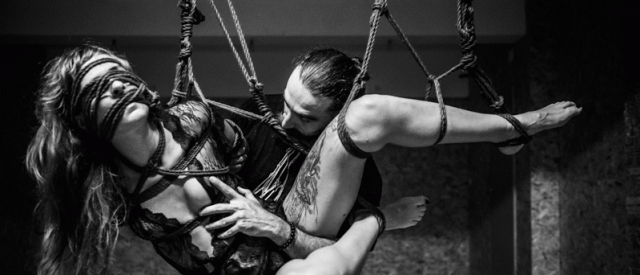 Intimate Kinbakushi Night er en eksklusiv Kinbaku oplevelse med de bedste internationale Kinbakushis, som inviterer dig ind i deres intimsfære, i en play-session med deres model. Denne aften er en unik mulighed for at opleve hvordan de bedste kinbakushis leger med sine modeller når de dykker ned i kernen af kinbaku, for deres egen fornøjelse. De hverken underviser eller laver show - men laver kinbaku, med os som tilskuere. NB: Stærkt begrænset antal billetter til denne aften. Fotografering og videooptagelse er IKKE tilladt. Ingen billetsalg i døren.
We are very proud, that Andrea & Fenice agreed to do another unique play session in Kinbaku Lounge. They kindly accepted and agreed to create something special. This will be yet another rare opportunity to see them explore together, some of the things they like the most in Kinbaku and BDSM.
Please notice: For this event, there will be a very limited amount of tickets. Photography is not allowed at the event by anyone apart from the Kinbaku Lounge Organisers. Video is strictly forbidden.